Resultados: de producto(s) -
Inverters
Solar inverters are essential components of solar energy systems that convert the direct current (DC) produced by solar panels into alternating current (AC) electricity that can be used to power homes and businesses. They are also known as photovoltaic (PV) inverters, solar power inverters, or simply inverters.
There are several types of solar inverters, including string inverters, micro inverters, and power optimizers. String inverters are the most commonly used and are installed at the beginning of a solar energy system. Micro inverters and power optimizers, on the other hand, are installed on each solar panel, which provides better performance and monitoring of individual panels.
In addition to converting DC electricity to AC electricity, solar inverters also provide data monitoring and communication functions, which enable the system owner to monitor the performance of their solar energy system in real-time.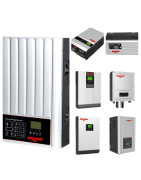 Más vendidos en Inverters